Hey readers. Heading to the stadium today? If so, please do visit several of my juniors' stalls as they are conducting their Gerai Ramadhan Business Project as part of their 2nd year assessment (an activity which I used to take part a year ago) . They will be selling throughout the month of Ramadhan at the Ramadhan stalls next to the National Stadium. Look for them. They're young, high spirited and always there to provide you with the best sungkai delicacies.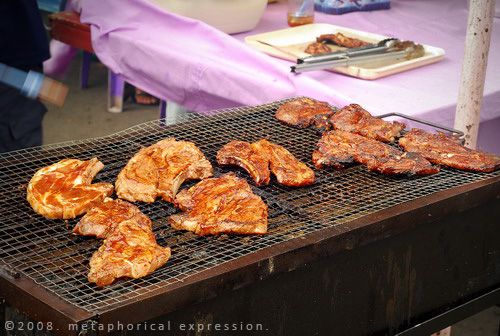 First up is
Delic8zen
. Sorry I've got no good pictures of them here because there was too much smoke in the area and somehow ruined my shots. Anyway, the stall is located exactly at the smokey-smokey area. Simply look for Stall
T
. Their specialty? Lamb Chops for $4.00! And look at the size of those things!
Introducing
Eight
, located at stall
T10
which is close to the smokey-smokey area. They sell a variety of drinks and malay cakes. Their Air Kausar is a hit.
Just next to Eight is
Wondrous
, at stall
T7
. They have a wide selection of
Kuih Melayu
and a variety of drinks as well.
This is
OHEF
(One Hand Eight Fingers). I personally love their name, very creative indeed. Anyway, OHEF is located at stall
C14
, which is in the central area. Just look for these guys. Hot on their menu are their Butter-Milk Chicken Rice. Their Cincau drink is nice too.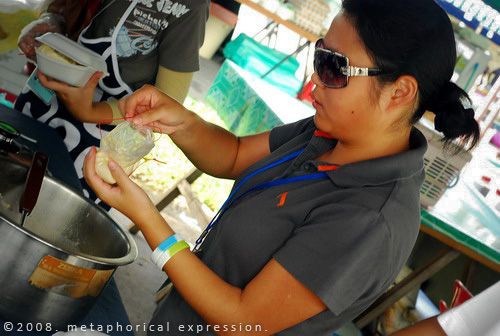 Try the Butter-Milk Chicken Rice from OHEF.
Also located somewhere around the centre is
Grassire
at stall
D5
, and as I've mentioned in my previous post, they sell the popular 'Refreshing Juice' supplied by
Rena@Shorteyelashes
. Oh, and the
Pais Daging
is lovely too. I've personally tried them and I really love them.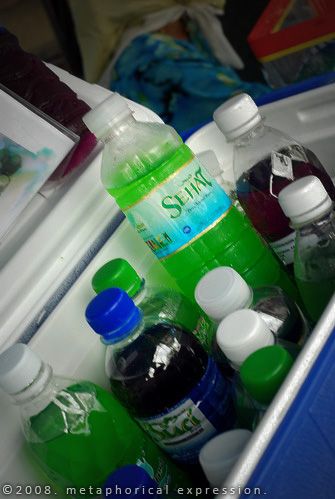 The 'Refreshing Juice' that everybody's been talking about
Up next is
Ex-Zone
, located at stall
B4
. Hot on their menu are their carrot cake, chicken cheese balls and fresh orange juice. They're very well priced too.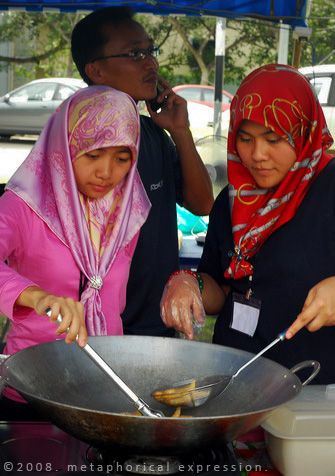 Lastly is
Mix10
, located at stall
M5
which is at the far end, and by looking at the picture, they sell very tasty
Keropok Lekor
. Just look for that cute little girl in pink and ask her to cook a fresh sizzling
Lekor
if you wish to buy. *LoL*
There's one company I still have yet to look for, and its
FunTasteC
at stall
B15
. From what I've heard, they sell waffles and a variety of cakes. I missed the opportunity to take their pictures so I've decided to borrow the image above from
Gaara
, a member of FunTasteC.
Regardless, I'll always be at the Stadium to check them out as well as to purchase Sungkai delicacies for my family and myself (after all, I live close by). So there you have it people, my Juniors Gerai Ramadhan for this year. Please do come and support them by purchasing from their stalls.

Do your part. Support the Business School stalls!