Pictures were taken from last Sunday evening's event held at the Hua Ho Manggis Mall ballroom. This was our first event coverage by the Havoc Photogs and served as a training ground for us. I'm limiting the photos here as we will be selling the group photos exclusively to the students of the Business School, which should be ready in a week time.
From the main entrance


Everyone was wearing strikingly colorful raya attire and eager to have their pictures taken. But I attempted to avoid taking group shots as my main focus was shooting action shots with my trusty 50mm all the way throughout the entire function.
Cybercanon
and
Marriz
worked entirely on taking shots of guests.
Marriz
even set up a mini lighting kit for that studio quality group photo moments specially for the Business School students.
Principal Habib and his wife
The night was really grand. I've witnessed several talented juniors performing their dances, dramas and songs. I'm very impressed with their potential. It's really nice to see each and every group came up with their own theme and successfully pulled off an amazing show for us. I hope to see more from them in the upcoming Farewell Dinner for our intake early next year.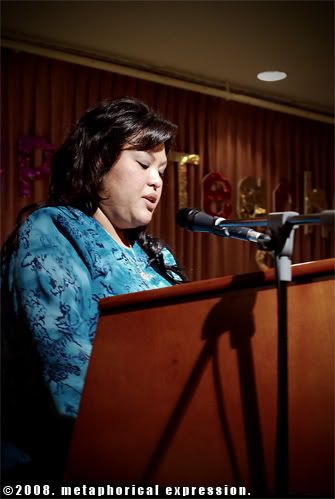 The President of the Student Council Suserena delivers her speech
Suserena delivering a gift to The Principal of The Business School
The source of the slide presentation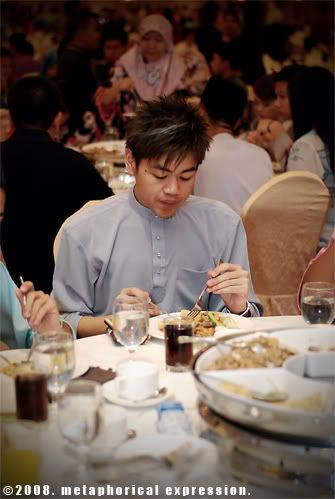 Mr Metrosexual Guy enjoying his meal
Gifts for the lucky draw
Caught dancing behind the mixer
For those interested to recieve their pictures which we took on the night of the function, please do support the Havoc Photogs by purchasing the images from us as soon as we have finished compiling and post-processing them, which by then we will show up in school to announce the sale. Your support are highly appreciated.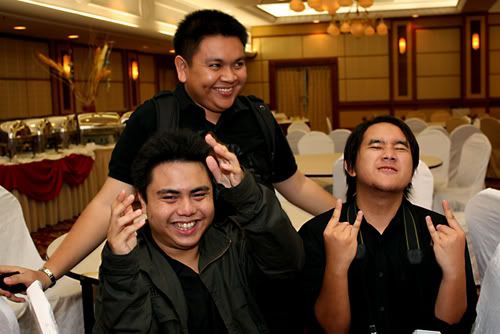 The Havoc Photogs Cybercanon, Marriz and Hiero celebrating their successful first coverage together