I used to be as thin as a stick prior to my early Pre-National Diploma days in The Business School. Over the years, I struggled to keep my weight at its most optimum. I was a fitness addict back then, so basically I did a lot of cardiovascular activities (running, hiking, swimming etc) to help maintain my shape and to avoid weight gain. That all stopped by the time I was in my second year. Beginning 2008, I realized that I'm gradually putting on a lot of weight and the figures just doesn't seem to come down!

So what really caused this weight gain? Well, based on my observations, I noticed that some of my seniors put on a lot of weight prior to their final years up until their graduation (though some managed to shed off successfully after that) and its kinda like a tradition for the students of Business School to experience this phenomenon (that's right, juniors, you could be next, hahaha). But one thing for sure, its the lack of exercise and the high craving for food during those stressful second year that resulted to this physical change.

Now, thanks to Aidilfitri and an abundance of open houses, I've reached to the point where I am in a highly potential risk of being overweight. If I don't do something about this now, It'll just get worse. I must return to my initial weight, the way I started when I got into the Business School 3 years ago; fit and healthier. I still got my old clothes that I no longer fit due to my waist size, but I'm pretty determined to be able to wear them back because I still love them.

Things have been hard for me lately. The most obvious is when I climb the stairs to work. Its a 3 storey climb and I could not even catch up with my own breathing. And when I'm too relaxed, I tend to be sleepy fast. Looks like my pair of legs are longing for a good hike on the hills (did I ever mentioned I used to conquer 9 hills in Shahbandar?)

Most importantly, I definitely need to change my eating habits. Lately I have this tendency to eat until I am full, with a combination of sweet drinks on the side. Its really hard to avoid it, especially when its given to you for free. After all, Brunei is a country abundant with free food! Well, this is where I should keep a contsant eye out starting today. I must watch my diet.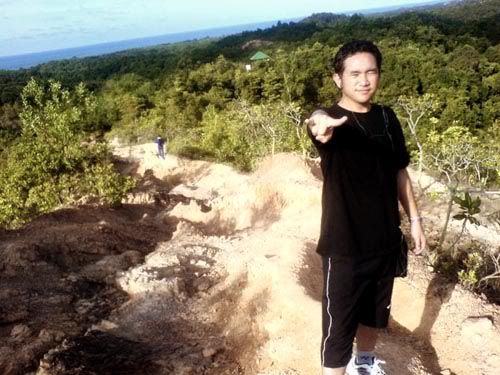 Hiero in late 2006, Shahbandar, hill 7. (Not convinced? There's more where this came from)

I gotta start running, and there's no better time to start than today. I'm putting my deadline to
1st of January 2009
. The countdown starts now. This is exactly how it was like, 2 years ago. If I could do this before, I certainly can do it again. I need all the motivation I could get.
New running shoes, check. iPod, check. I'm off to the stadium!