It's that time of the year. The Business School will be celebrating its 4th Hari Raya Aidilfitri / Teachers Day Celebration event this Sunday 19th at the Multi-Purpose Hall of Hua Ho Manggis, organized by my juniors who are currently in their 2nd year and doing their Business Project activities. And yes, like every other year, there will be a band, lead by Sir Fadzil.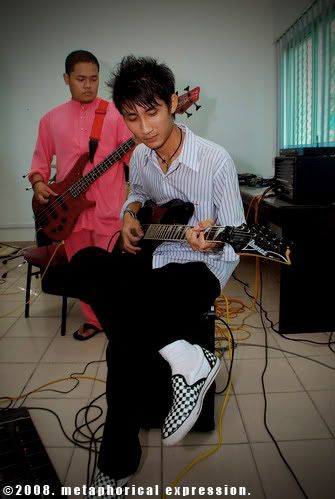 The next Sai?
(I personally think he's good!)
Actually, I wanted to just take a break from being involved in anything for this year's function because I've done so much for 3 years since my PD days. But in the end, they decided to include me in the band in one or two of the performances for the night. Well, it's really been a long time since I last set foot on stage so I thought I needed to brush up on things. Hmm, it totally feels different without Sai and Kamal this time around. Izzat and I are the last survivors of the Business School band. But now we have entirely new faces, and I've to say, they're really talented juniors.
I met Sir Fadzil last week at Ms Siti's family open house and he asked me to give a one last show. At first I hesitated because I just wanna give the juniors a chance to take over the stage rather than myself who has been there many times already. I believe there are far better talented juniors in campus that deserve the spot. But then, I considered this a privilege and give it a go, for one last song.
I'm not gonna disclose the songs that we're all gonna play. I'll just leave that to the committee. I'm only doing my part. Besides, I also have other things to worry about. Havoc Bloggers will be the official photographers for the function so I've to set my gears ready for the big night. Wah, busy busy busy. I still can't believe that I actually put myself in this busy situation again, but then I'm kinda used to it. After all, I'm always the busiest guy in school all this years, especially during functions.
Sir Abu on the drums

Preparations for the band performances have already started and currently on-going. They're really working hard to make a grand performance on the 19th. Let's hope that we could pull off the best show for the night. Only 6 more days to go.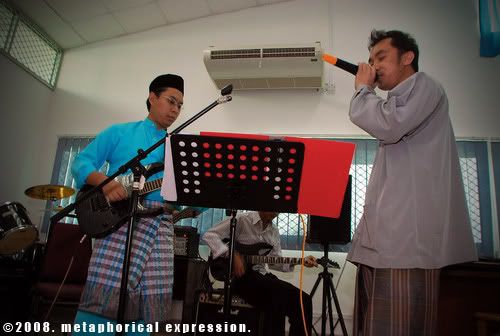 Even tutors can join the fun in the band with the students.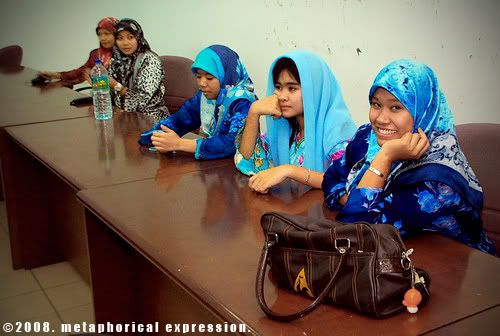 Fans watching the rehearsals session. Hehe.