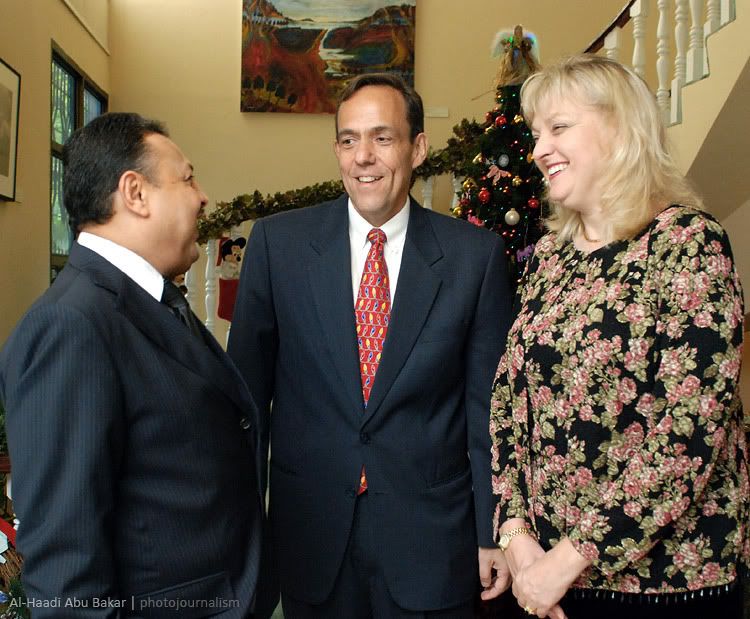 US Ambassador to Brunei William E Todd (C) and his wife Ann Buckingham Todd (R) having a conversation with one of the guests, Saudi Arabia Ambassador to Brunei Mohamed JA Hashim during his Christmas open house at Kg Mulaut yesterday.
HOLIDAY spirits ran high as US Ambassador to Brunei Darussalam William E Todd welcomed guests to his home in Kg Mulaut yesterday for his holiday open house.
Ambassador Todd and his wife, Ann Buckingham Todd, welcomed guests, who included Minister of Culture, Youth and Sports Pehin Orang Kaya Setia Pahlawan Dato Seri Setia Dr Hj Ahmad Hj Jumat, Brunei Economic Development Board (BEDB) Acting Chairman Dato Paduka Timothy Ong, Brunei Tourism Board CEO Sheikh Jamaluddin Sheikh Mohamed and Pehin Kapitan Lela DiRaja Dato Paduka Goh King Chin.
Also attending the gathering were ambassadors and high commissioners of the diplomatic corps, government officials, business leaders and members of the American community living in Brunei.The Holiday Party and Open House is an annual tradition for the ambassador and his family and yesterday was the second time the event had been held.
In celebrating the holiday occasion, the ambassador's house was adorned with traditional holiday decorations, including a decorated Christmas tree with Todd family ornaments.
The function was held before the actual holidays as it was anticipated that most guests would be busy celebrating with their families during the coming weeks.
Guests were entertained by carolers from St Andrew's Church. As the choir sung Christmas carols, guests listened intently, embracing the holiday cheer in unity, bringing together harmony between the different faiths and beliefs.
"This is a special opportunity for my family to open up our home to our Brunei friends. I consider it a great honour to be the US Ambassador to Brunei, and I welcome the chance to give a little back to Brunei during the holiday season," said Ambassador Todd.
"My family and I look forward to continuing this annual tradition and spending another holiday season in Brunei," he added.