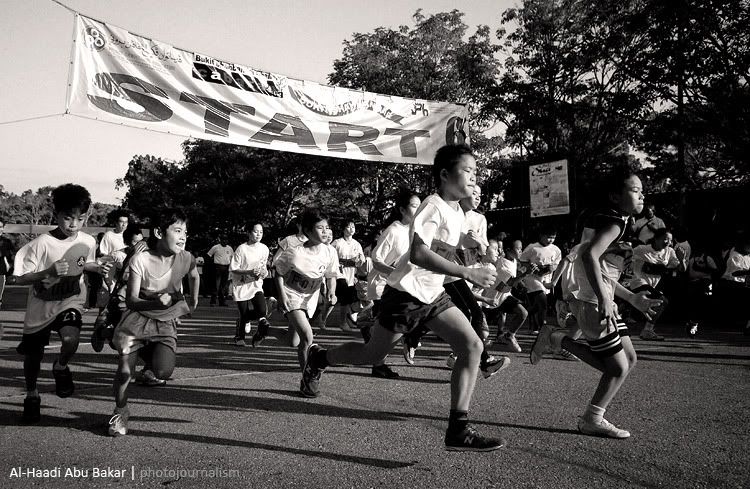 SOME 350 people took part in the 6th Bukit Shahbandar Challenge at Bukit Shahbandar Forest Reserve yesterday, an event aimed at raising public awareness on the importance of "urban forestry" amid the global agenda on climate change.
The challenge was jointly organised by the Forestry Department under the Ministry of Industry and Primary Resources (MIPR) and the Brunei Sawmillers Association (BSA) in conjunction with the World Forestry Day 2009.
"Forests play a vital role in sustaining life in the country, reducing and stabilising the global temperature as well as providing the urban community with a healthier environment. It is therefore our role and responsibility to protect and look after it," said one of the working committee members, Ahmazey Ahmad, Head of Promotions Unit at the Forestry Department.
"This is one of the public-approach campaigns that will continue to be organised to attract more people of all ages to support the national forest conservation policy in achieving our goal to remind Bruneians of the importance of forests to the ecosystem," he added.
The event was intentionally held at Bukit Shahbandar in order to further promote the recreational park as one of the most popular ecotourism sites in the country, due to its beautiful and scenic view of the beach, heath and pine forests blended with the rugged terrains which are suitable for physical endurance activities such as jogging, jungle trekking and hiking.
A total of seven categories were competed, namely Category A (Male Open) designated for male runners; Category A (Amateur) for males aged between 15 and 35; Category B for males aged between 36 and 49; male veterans aged 50 years and above came under Category C while Category D was for female participants aged between 15 and 34 and Category E for females 35 years and above.
The final category is a new one called the Fun Run Category for children aged 14 and below.
"The Fun Run Category is a new addition to the challenge as we've had kids interested to participate in the previous challenges held early this year but we were unable to place them in a suitable category then," said Ahmazey.
"Due to public requests, we are proposing to include a category for senior citizens in future events, which is still under discussion," he added.
"We have seen a larger turn up of participants this time as we are also getting in interested foreigners from neighbouring countries such as Miri and Limbang," said Ahmazey.
Present as the guest of honour was the Minister of Industry and Primary Resources, Pehin Orang Kaya Seri Utama Dato Seri Setia Hj Yahya Begawan Mudim Dato Paduka Hj Bakar who also participated in the challenge under Category B.
Kick-starting the run was MIPR's Deputy Minister Dato Paduka Hj Hamdillah Hj Abd Wahab. Also seen participating in the run was the Philippines Ambassador to Brunei, Alexander B Yano.