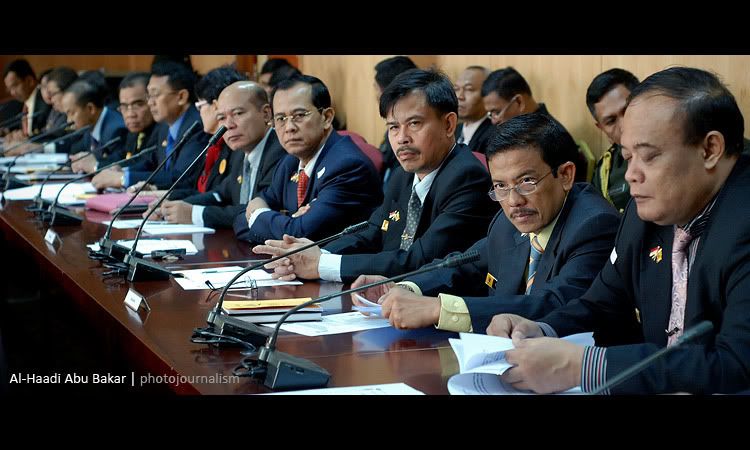 Working visit: LEMHANNAS officials listening to a briefing conducted by representatives from various departments under the Ministry of Home Affairs.
A DELEGATION from the Indonesian National Resilience Institute (LEMHANNAS) is currently in the Sultanate on a five-day visit to gain information and attain better understanding on the bilateral relations between Brunei and the global, regional and national interests of the Republic of Indonesia.
The delegation consists of 24 participants of the Regular Course Batch 43 of LEMHANNAS, a non-ministry government institution placed directly under the purview of the President of the Republic of Indonesia in carrying out government stewardship in the area of strategic national tenacity and endurance research and training.
Leading the Indonesian delegation was Major General TNI Suroyo Gino, who serves as the Senior Assistant to the Governor of LEMHANNAS.
The visit is part of the regular course organised by the institute under its Strategic Foreign Studies curriculum with the aim to encourage its course participants to learn first-hand of the strategy, pattern and system of the national development of Brunei as a model reference to realise Indonesia's national resilience. Yesterday, the delegates made a call to the Ministry of Home Affairs.
They attended a briefing on the main tasks and the scope of authority of the ministry, the labour and immigration policies and issues, among others.
The briefings were conducted by representatives from the Brunei-Muara District Office, Department of Immigration and National Registration, Labour Department and the National Disaster Management Centre (NDMC).
Major General TNI Suroyo also made a courtesy call to Acting Minister of Home Affairs, Pehin Orang Kaya Dewa Pahlawan Dato Paduka Hj Dani Hj Ibrahim.