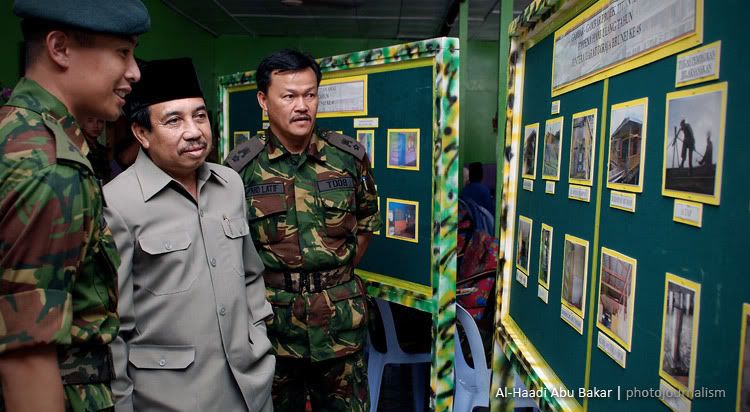 Community project: Director of Yayasan Sultan Haji Hassanal Bolkiah Foundation, Dato Paduka Haji Ali Hashim (C) with members of the Royal Brunei Land Forces looking at the displays on the renovation works of the residence of Corporal (Rtd) Sani Tani in Mukim Sungai Kebun.
FORMER Royal Brunei Armed Forces (RBAF) personnel, Corporal (Rtd) Sani Tali shed tears of joy yesterday upon receiving his house key and certificate from the Royal Brunei Land Forces (RBLF) marking the official completion of renovation works on his home in Mukim Sungai Kebun under the RBLF's outreach community project.
The annual project, codenamed "Titian Amal", was conducted by the Royal Brunei Armed Forces (RBAF) through RBLF to commemorate the RBLF's 48th anniversary which falls on November 4.
The charitable effort is one of the RBAF's social responsibilities in an effort to expose the skills of its personnel to the public, particularly in carpentry, and is a devoted initiative by the RBAF as reflected in the defence policy of Brunei to support the nation especially the less fortunate individuals.
The renovation works on Corporal (Rtd) Sani Tali's residence in Kg Sungai Siamas took two months to be completed and involved the reconstruction of the balcony, roof, pillars, walls and ceilings, which were initially in poor states.
"Alhamdullilah, with the newly renovated home, it would enable my family and I, to live comfortably as well as protect us from the sunshine and rain," the retired Corporal told The Brunei Times.
The father of eight who retired last year expressed his appreciation to the agencies that have contributed in renovating his home and for the aid he received.
The cost of the project was estimated at BND$9,890.00.
The project was initiated in collaboration with the Department of Community Development (JAPEM) in the Ministry of Culture, Youth and Sports as well as the Sultan Haji Hassanal Bolkiah Foundation (YSHHB), in which both agencies had contributed $5,000 each to fund the cost of the renovation works.
Other additional infrastructural necessities such as manpower and building expertise were facilitated by personnel from the Assault Pioneer Platoon, First Battalion of RBLF.
The official hand over ceremony of the house key and certificate was held at the newly renovated site in Mukim Sungai Kebun and was officiated by the Director of Sultan Haji Hassanal Bolkiah Foundation, Dato Paduka Haji Ali Hashim Hj Mohd Daud. Commander of RBLF Brigadier General Haji Aminuddin Ihsan Pehin Orang Kaya Saiful Mulok Dato Seri Paduka Haji Abidin presented them to the Director of JAPEM, Datin Hajah Adina Othman who then presented the key to Corporal (Rtd) Sani.
Also present at the ceremony were the Assistant Director of the Brunei-Muara District Office Haji Haris Hj Othman, the Penghulu of Mukin Kota Batu Pateh Dato Paduka Hj Masri Ismail, Senior Officers of RBLF and other Government agencies.