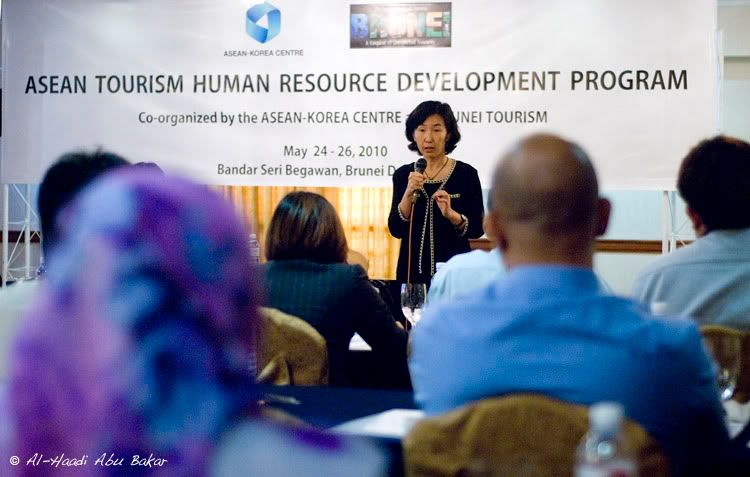 Adele Kim, Director of PROMAC Partnership, briefing participants of the workshop.
A TRAINING programme is being held to help professionals in Brunei's tourism industry to to further improve services to Korean tourists visiting the country.
Jointly organised by the Asean-Korea Centre and the Brunei Tourism Board, the three-day "Asean Tourism Human Resource Development Programme" provides participants an insight into Korean tourism, culture and manners, and basic Korean language by four experts from South Korea.
Some 40 participants comprised tourism professionals from government and private sector such as hoteliers, travel agents and NTO official are attending the programme.
"The Asean-Korea Centre has been organising Asean Tourism HRD Programme to help build the capacity of tourism professionals of Asean countries in providing tailored service to Korean tourists," said Jae Hyun CHO, the Centre's Director of Development Planning and General Affairs Unit. He said that four such programmes have already been organised in the Mekong Sub-region including Laos, Vietnam, Myanmar, Cambodia and Thailand. "In the fiscal year of 2010, the Centre will organise the same programmes in BIMP-Eaga countries and Singapore," he added.
"It is hoped that this programme will be of help to all participants in deepening understanding of the Korean tourists and their culture and also in learning Korean language so that tourism professionals could provide services closely attuned with the needs of Korean tourists, thereby further promoting Korean tourism to the Sultanate," said Jae Hyun CHO.
Present to officiate the launch of the workshop was Brunei Tourism CEO Sheikh Jamaluddin Sheikh Mohamed.
Republic of Korea Ambassador to Brunei Kim Dae-Sik said that the programme would provide a useful opportunity for the stakeholders in the tourism sector to learn from Korean experience and expertise.
He said that Korea is an important market for Asean tourism, as statistics have shown that the number of Koreans travelling to Asean countries is increasing every year.
"Despite a temporary hike in 2008 with charter operations from Seoul to Bandar Seri Begawan by a Korean travel agency, it is still hard to say that we are seeing steady increase of Korean travellers in Brunei," said the ambassador
"The task ahead is how to turn the current trend of sporadic nature into a sustained one. I believe that Brunei has a lot to bring in more Korean people to the country on a sustainable basis, if it utilizes its tourism potentials to the fullest with effective strategies," he added.
"Six century-old monarchy, well-preserved pristine rainforest, noble Islamic architecture, the largest water village in the world, hospitable people are no doubt distinctive assets of the Sultanate. Furthermore, the ongoing project 'BSB Development Masterplan' which aims to transform the capital into one of the world's most livable and greener cities will be instrumental in attracting more tourists," he added.