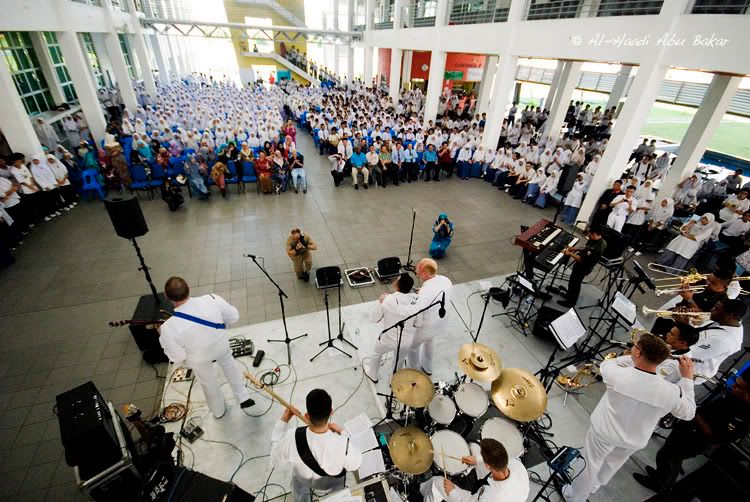 STUDENTS of Paduka Seri Begawan Sultan Science College (MSPSBS) were given the rare opportunity last wednesday to learn music from members of the Orient Express, the US Navy's band of USS Tortuga, who are in the country as part of the CARAT Exercise.
The eight-piece group of professional navy musicians' visit to the college was to expose and educate students involve in the college band to various music genres, styles and rythm, which they have not heard before, and apply them in their music education.
"As music will be a huge part of the co-curriculum of SPN21, the workshop enables the students to have first hand exposure in a subject which they will soon have the option of taking up, especially for Year Seven and Year Eight students," said the College Band Coordinator Mohd Raymie Hj Othman, who is also a chemistry teacher at MSPSBS.
He said that the workshop and the special appearance by the US Navy band members also hoped to encourage more students to join the college band and promote the college's non-academic endeavours.
During the workshop, the Orient Express band members also took the opportunity to work one-on-one with each of the student with their different instruments to allow them to appreciate music more. "This workshop is an opportunity for us to demonstrate our music and culture to the Bruneian people, and to share our knowledge with the Bruneian students on our profession as Navy Musicians, in a way teaching them various integral points in order to transform from basic high school musicians into professional musicians like us," said Musician First Class Bradley Blanchard, the band's frontman.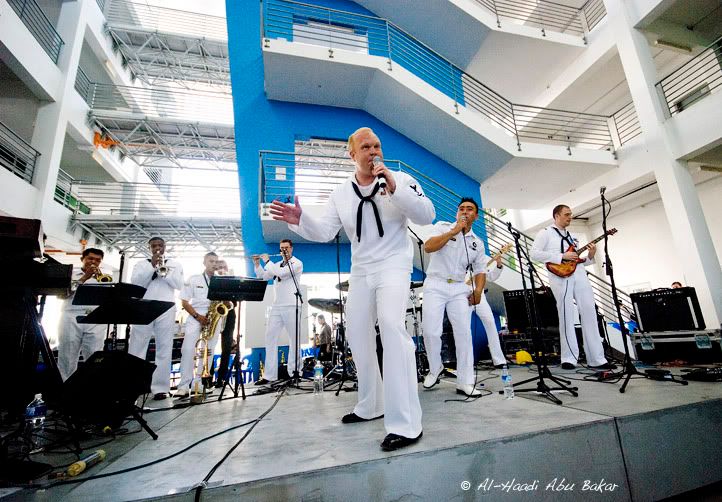 The students were also treated to a live joint concert by the Orient Express and the Royal Brunei Armed Forces (RBAF) band. The Orient Express brings with them a diverse range of American music from pop to R&B, much to the delight of the audience.
Also present to witness the live mini-concert were Acting Principal Dk Sarimah Pg Hj Ahmad, Lt Col (Navy) Hj Osman Hj Suhaili and US Navy Rear Admiral Nora W Tyson.
As the highlight of their visit in the country, the band together with the RBAF band will collaborate to perform at the Jerudong Park Playground's Mini Amphitheatre on the evening May 8 as part of the park's Family Entertainment Night.