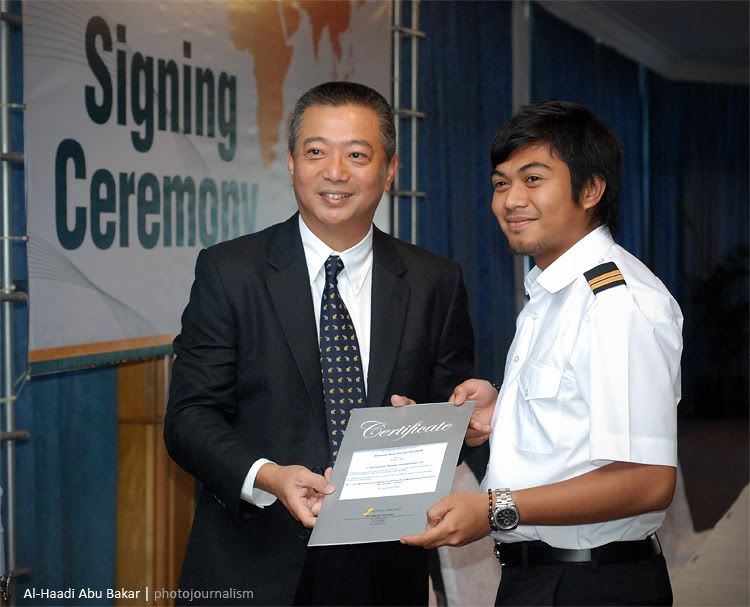 Tan Siow Phing (L), RBA's Executive Vice President of Engineering, presenting a certificate to one of the recipients, Md Nizar Hj Noordin, at a ceremony at the Royal Brunei Recreational Club.
EIGHTEEN apprentices of the Royal Brunei Airlines (RBA) engineering scheme received their certificates after completing their training, during a ceremony held at the Royal Brunei Recreation Club, yesterday.
The recipients were the 25th intake of Engineers from Air Service Training (AST) in Perth, Scotland and the locally trained B2 Avionics engineers who have just completed the European Aviation Safety Agency (EASA) Part 66 course.
"Of the 18 graduates here, six are from Intake 25 of our Engineering Apprenticeship Scheme trained at the Air Service Training in Perth, Scotland; three of them are B1 engineers and three more are B2 engineers," said Tan Siow Phing, Executive Vice President of Engineering, RBA.
"The other 12 recipients are B2 trainees who are locally trained by Lufthansa Technic together with four MH mechanics. They are selected based on their experience, knowledge and work performance," he added.
"We are proud to say that we have achieved 100 per cent success in both programmes. RBA will benefit greatly from this achievement because in a nutshell, B1 engineers are responsible for taking care of the aircraft airframe, engine and electrical while B2 engineers manage the aircraft Avionics system," he added.
The event also saw the signing of an agreement between RBA and the Scholarship Section of the Ministry of Education (MoE) and the outstanding trainees from Intake 25, Mohd Alif Iftitah Morzuki and Dk Zanatul Iman Pg Jeffery.
"This is the first of such scheme where His Majesty's Government, through the Scholarship Section offers our outstanding trainees a chance to continue their studies to do a Bachelor of Engineering in aircraft maintenance. Their endeavours have offered young Bruneians a chance to build a career in the aviation industry which is in line with RBA's goal towards localisation," added Tan.
Present to witness the signing of the scholarship agreement and the certificate presentation ceremony was the ministry's Assistant Director of Scholarship, Hj Azis Hj Nayan.
One of the new graduates, Md Nizar Hj Noordin, told The Brunei Times that learning the technical aspects in ensuring the safety of an aircraft was a great challenge.
"The challenge of the technical work is always changing, so there's no denying that we will certainly face new challenges everyday," added Md Nizar.
"But one of the most important lessons learned from the course was that teamwork can help to overcome any difficulties," he added.
Another graduate, Dk Nordianah Pg Omarali said that she would be pursuing a degree in engineering as soon as she completed her current course, hoping for a better position in her career with RBA.
"You have to be humble in this line of work as there is no such thing as knowing everything. New challenges have to be faced every single day. In addition, it is even more challenging being one of the few female engineers, where you get tested further to see whether female engineers could do as good as their male counterparts," said the 21-year-old.