BRUNEI'S Heart of Borneo (HoB) initiative have spared lowland trees from further degradation which has already occurred in some parts of Borneo due to climate change caused by years of human activities.
This was indicated in a research by Ferry Slik, Associate Professor at the Key Lab in Tropical Forest Ecology, Xishuangbanna Tropical Botanical Gardens (XTBG), Chinese Academy of Science (CAS), Yunnan, China which he represented during the second day of the Asem (Asia Europe Meeting) Workshop 2010 held at Universiti Brunei Darussalam (UBD), yesterday.
During the session, which primarily discussed on Biodiversity, Forest Ecosystem and Functions, Slik presented his research on Borneo-wide modelling of tree diversity, composition and biomass and their indication on possible climate change which impacts on tropical forests.
"We still have limited knowledge of how global climate change may affect tropical forests around the world, even though this information is crucial for designing conservation strategies that can counter some of its possibly negative impacts."
Slik's research is focused on tree species diversity and distribution patterns in relation to environmental variables in lowland rain forests of Borneo and Southeast Asia.
This includes investigating the amount of forest structural damage caused by drought, fire and logging and their effects on tree species diversity and composition, as well as species-habitat associations in old growth forests.
Slik has build up a large database of plant morphological traits, which in combination with a GIS environmental and tree species inventory database can be used to study floristic, diversity and plant functional traits in relation to the environment.
"One way of predicting possible impacts of future climate change on tropical forest biomass, tree diversity and composition is by determining the influence of current climate gradients on these forest properties."
He said that once these relationships are known they can be superimposed on maps containing modelled future climate scenarios to determine if and how forest biomass, tree diversity and composition will change in a spatial context. This in turn can be used for better spatial planning of conservation efforts for tropical forests.
In his study, Slik and his team used a large data of old-growth forest tree inventories from across Borneo and related their biomass, tree diversity and composition to eleven environmental variables including several climate related ones such as annual rainfall, rainfall seasonability, temperature seasonability, temperature annual range, drought stress and elevation (which is a proxy for yearly average temperature).
During his presentation, Slik related his findings to expected climate change models for Southeast Asia.
"Our results show that forest biomass, tree diversity and composition are all significantly but differentially correlated with climate variables. This means that future climate change will affect these forest properties in sometimes contrasting ways."
"It is likely that tropical forests will show changes in structure, composition and diversity over the next 100 years that are related to changing atmospheric conditions."
Tropical forests in Borneo are likely to show changes in structure, composition and diversity related to changing atmospheric conditions.
He went on to say that it is also likely that these changes will differ considerably between the main tropical forest regions due to regional differences in climate change.
"Models for Borneo seem to indicate increasing tree alpha-diversity due to increasing temperature, considerable shifts in tree species distribution due to changing temperature (elevational shifts) and changes in temperature and rainfall seasonality, and increasing biomass due to increasing rainfall."
"So the main question is not 'will tropical forests change due to climate change', but 'can tropical forest adapt to climate change given the time scale involved, existing land use patterns, forest fragmentation levels and tree dispersal capabilities?"'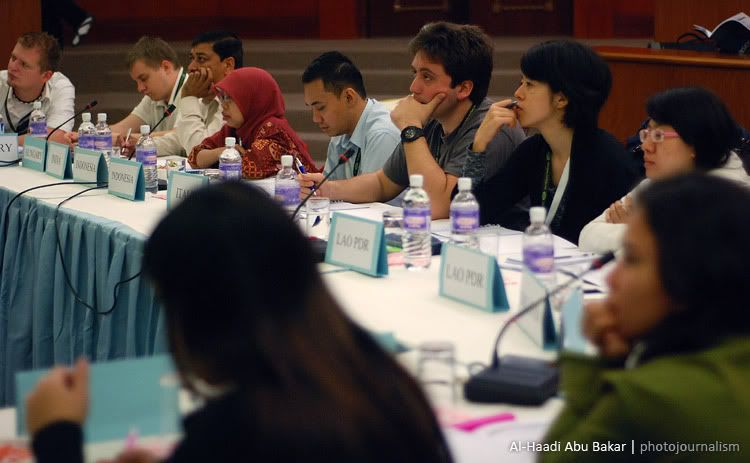 Brunei is among the remaining countries that still has a lot of lowland forests, which is reasonably good. However, Brunei is surrounded by Malaysia where a lot of forest degradation and fragmentation has already happened, so if species need to migrate, they probably need to migrate to higher elevations.

"If the area surrounding Brunei is deforested, that's going to be a major problem for the species because there is nowhere for them to move."

"I think it's good that Brunei is in the Heart of Borneo initiative because Brunei has rich lowland forests still untouched.

"The most diverse and interesting but also threatened forests are the lowland forest, which is mostly outside the Heart of Borneo. At least some part of lowland forests get preserved."

Slik who obtained his PhD at the National Herbarium of the Netherlands, Leiden University, The Netherlands. is interested in theoretical and statistical problems with current diversity and ordination methods. He is also into new species identification techniques, such as DNA-barcoding and next-gen sequencing.

"I hope to expand my studies to include the whole of Southeast Asia, up to the most northern limits of naturally occurring Dipterocarp forests," he told The Brunei Times.