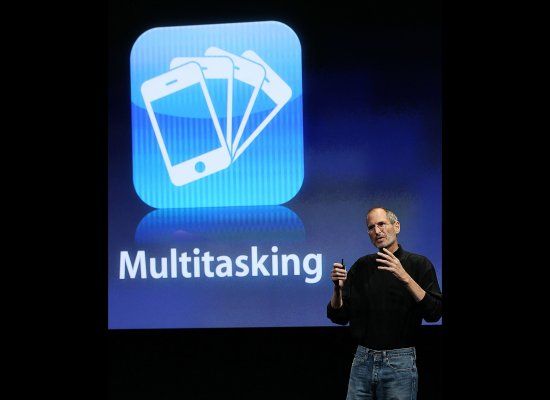 Apple CEO Steve Jobs delivering his presentation on the iPhone OS 4.0 yesterday
The anticipated fourth version of Apple's iPhone Operating System, dubbed the '
iPhone OS 4.0
', was officially announced yesterday. The new OS will have more than 100 new user features, including playlist creation, 5x digital zoom in the camera app, customizable home screen, tap-to-focus for video, auto photo-geotagging, and support for Bluetooth keyboards. But what really got me excited was the one thing that everyone has been anticipating on Apple's smartphone device for years: Multi-tasking.
There's a reason why Apple hasn't been implementing multitasking into the iPhone OS until today, and that was to preserve battery life and performance. Apple has finally found a solution to that with its multitasking feature unique to iPhone OS. Although users are still confined with one app on screen at a time, double-tapping the home button now allows the user to bring up a new menu at the bottom screen that reveals working apps that users can switch to without literally shutting down the current app.
Another impressive feature that I was so excited to hear is the ability to create folders. Now users can organize apps into folders with drag-and-drop simplicity, thus eliminating all the clutter. This also allows faster accessibility to your favourite apps, and with this new feature, users can manage up to 2160 apps at once, that's much more compared to the current 180 apps the iPhone can carry.
Other features worth noting are security and compatibility enhancements for business features, better mail management, iBooks apps, a gaming social network and iAds, a new way of displaying ads in mobile devices without hindering productivity.
The iPhone OS 4.0 will be available for download in June for iPhone 3Gs and in September for the third generation iPod Touch (and yes, it will be for the iPad as well). Unfortunately, owners of the iPhone 3G and older iPod Touches are out of luck as they will not be able to enjoy some of the features (arguably no multitasking), due to hardware limitations. That said, now is the perfect time to get the iPhone 3Gs, though I'm sticking with my iPod Touch until a 64GB iPhone is out.