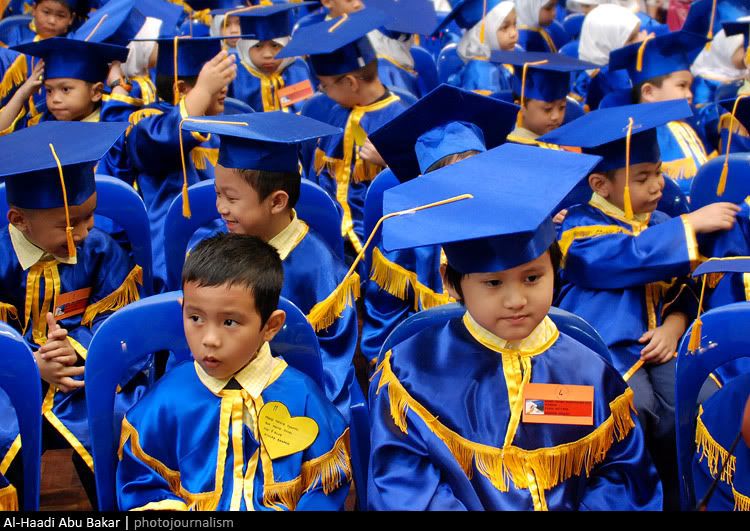 Graduating Kindergarten Three students of Nusa Laila Puteri School waiting to go on stage to receive their certificates at Dewan Muhibbah on Saturday.
IT WAS a happy occasion for students in Kindergarten Three (KG3) at Nusa Laila Puteri Schools (NLPS) yesterday afternoon as they held their graduation ceremony at the Dewan Muhibbah (Muhibbah Hall).
Parents and teachers gathered at the hall to witness their students, sons and daughters dressed in their full graduation robes, complete with mini-mortar boards, to receive their official scroll from the Permanent Secretary at the Prime Minister's Office, Sa Bali Abas.
Around 100 students from the Telanai, Tanjong Bunut and Sungai Buloh NLPS kindergartens marked the end of their kindergarten years at the 31st Convocation Ceremony.
In keeping with the official tone of the event NLPS Principal Dr Hjh Sharifah Noor Hj Saiyed Ibrahim said in her welcoming speech, "It is hoped that through this ceremony, that these new graduates will continue their efforts to success."
The students will continue their studies Year One through Year Six at the schools and will have the opportunity to learn subjects such as Malay, English and Arabic languages and Al-Quran.
She also touched on the 97 per cent success rate of the recent Lower Primary Assessment (PSR) of NLPS students, recently disclosed by the Examinations Department at the Ministry of Education.
She also said that by 2010 the NLPS Secondary Five students will be sitting for their 'O' Level exams.
Permanent Secretary Sa Bali also shared with the audience a short speech in which he highlighted "the students were of the future and that all stakeholders must be able to nurture their potentials to create model citizens of the country".
Before the graduation, KG2 students danced, performed a nasyid (choral recital) and gave an uplifting singing performance.
A "Parade of the Nations" was also held, with children garbed in the traditional costumes of other countries paraded onstage.
On Saturday, a similar event was held for the Kiulap and Manggis NLPS kindergartens, with about 98 students from KG3 received their certificates from Hj Abdul Aziz Orang Kaya Maharaja Lela Hj Yussof, the Permanent Secretary at the Prime Minister's Office.
In her welcoming remarks at that event, NLPS Principal Dr Hjh Sharifah Noor highlighted the various achievements that the students have made throughout the year in the extra-curricular activities, such as winning 13 awards in the National Science Base Competition, winning the colouring contest organised by the Ministry of Health (won by Mohd Amirul Aqrabi Ahmad of Primary Five) and winning fourth place in the Anti-Drug Choir 2009.
To further enliven the ceremony, the students gave various song-and-dance performances.